Clawfoot Bath Tub Reglazing
Claw foot bath tubs are freestanding tubs that create a beautiful presence within your bathroom. These tubs have feet that are ornate in nature and they keep the tub raised off of the ground for a vintage and appealing look. While these types of tubs do not have walls or tile on the sides of them, this does not mean that the tub cannot suffer from damage, stains, or chips. When your tub starts to look unappealing, you may be in need of clawfoot bath tub reglazing in NYC.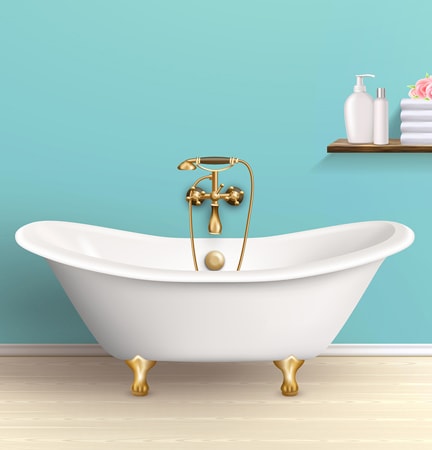 Reglazing services are a great way to transform the look of your bathroom without actually replacing all of the fixtures inside of it. Our cost-effective reglazing process will provide your clawfoot tub with the exact look you want. Whether your tub is damaged, stained, or a color you cannot stand, we are here to help.
When you work with the team at White Glove Bathtub and Tile Reglazing, you will be working with a team of technicians that are experienced, licensed, and insured. We take the time needed to protect our workspace and we work efficiently to ensure the job is done in a timely manner.
If you would like to learn more about our antique tub reglazing in Brooklyn or Queens, now is the time to call our office for a FREE quote.
Why Choose Our Antique Tub Experts in NYC
You may be wondering why you should choose us to handle your clawfoot tub resurfacing in NYC and we can tell you why. Our technicians will arrive to the job ready to perform the services you need. We work quickly, but we do not sacrifice the quality of our work. Our team will take the time to protect your bathroom and cleanup when the job is done.
We offer you a warranty on all of the services we perform, so you can rest easy knowing that you are protected.
Quality Clawfoot Tub Refinishing Services, New York City
When it comes to any type of reglazing services in Brooklyn, Queens, or NYC, it takes more than just quality materials to improve the look and feel of your tub. You need to have a team of experts by your side, so they can guide you and provide you with expert recommendations. When you work with our team, you will be getting the best in the business.
When it comes to the reglazing process, here is what we do for you:
We will clean the surface of the claw foot tub and provide repairs to scratches and chips
We use a solution that will etch the surface for permanent adhesion and bonding
We use a high build marine epoxy primer
We use a topcoat that provides the EXACT look you desire
Reglaze Your Antique Tub Today
Reglazing is a cost-effective way to improve the look of your bathroom. Our clawfoot bath tub reglazing in NYC, Brooklyn, and Queens is available to you and is performed on site and only takes one day to complete. If you would like to see about having your antique-style tub refinished, now is the time to call White Glove Bathtub and Tile Reglazing.