Vanity Refinishing and Restoration
If you are tired of looking at your outdated vanity or you are tired of the chips and cracks in it, now is the time to call White Glove Bathtub and Tile Reglazing. We offer the best vanity refinishing and restoration services in NYC, Brooklyn, and Queens.
Many of our customers are worried to even address the fact that their vanity or bathroom cabinets in NYC are ready for an update because they think this means they need a replacement. Let's face it – replacements are expensive and they can be quite time consuming too. After all, your entire bathroom will be in disarray for days at a time.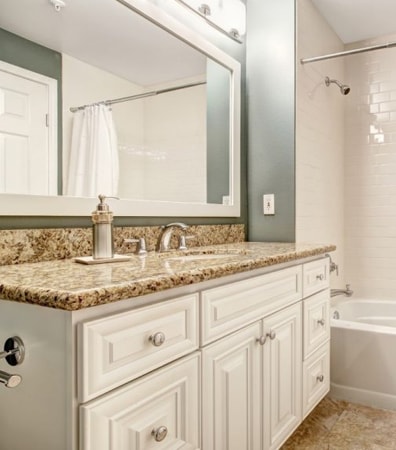 There is a solution to this and it is bathroom cabinet resurfacing and it can be done in just ONE day. Our team works quickly, but does not sacrifice workmanship either. In fact, we provide ALL of our customers with a warranty on the work performed.
If you are in need of vanities or cabinet restoration in NYC, now is the time to call us.
Kitchen Cabinet Refinishing and Restoration - NYC
Old kitchen cabinets can be unappealing, especially if you like to entertain in your kitchen. Kitchen cabinet reglazing services in Queens, Brooklyn, and NYC are designed to transform the look of your space without actually having to have the cabinets replaced.
Many customers choose to resurface their current cabinets because they want to change the look and color of them. Often times, customers think they need a replacement, but they don't. If the framework of your cabinets is still in good condition, then you can have them resurfaced without needing a replacement.
Our team is prepared to give you a quote for the service and work closely with you to ensure that all of your needs are met and that your kitchen cabinets will look great once done.
If you would like to learn more about what we can do for you, call our office now to receive a FREE service quote or to schedule a consultation with our experts.
We Utilize the Best Products
When it comes to the resurfacing, reglazing, or polishing of ANY fixtures in your home, it is important that the team you work with knows what they are doing. While quality materials and supplies ARE a must, they are not the only thing to consider. You must work with a team that is licensed, experienced, and insured.
Our team is skilled in kitchen cabinet, vanity, and bathroom cabinet restorations and refinishing services in NYC.
Get a FREE Estimate Today
If you would like to discuss your options, call the team at White Glove Bathtub and Tile Reglazing today. We offer some of the best prices locally and will be able to transform your space before your eyes without completely tearing up your space. In fact, you will be able to use your fixtures within just 24 hours of the job being completed. To receive a FREE estimate for vanity refinishing and restoration in Brooklyn, Queens, or NYC, call us now.